Arriving soon to the shores of St. Maarten.
Vie L'Ven luxury hotel and residences.
our vision
Our name, Vie L'Ven captures the essence of our vision. As the project develops and evolves, the creation of the name begins the legend. A couple of the members of the development team decided to have lunch at Kalatua on Mullet Bay beach on one fine Saturday afternoon. As the sun was settling in the horizon, they met a French couple and, over cocktails, discussed their attraction to St. Maarten. "It is full of life – Vie in French". Soon other guests gathered and a family from the Netherlands appeared, "We, too, find the island embracing life to its fullest. That's why we come again and again. We call it Leven in Dutch...". Vie L'ven

That's how our story begins...
Features
Oceanfront resort
and residences
Full service
five star hotel
Three world
class restaurants
Luxurious Spa
Three pools
Fitness Centre
Concierge Services
Two vibrant cultures
The architects and designers of Vie L'Ven have been inspired by the duality of cultures gracing the Island of St. Maarten. Both Dutch and French design influences permeate the architectural and interior design features of every glorious suite and fabulous amenity throughout the resort.
french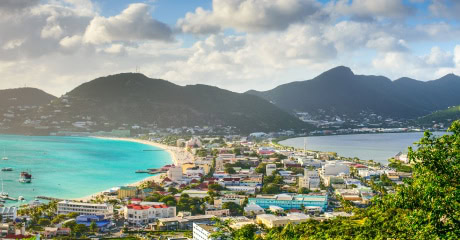 dutch
sneak peak
Arrival Entrance
extraordinary residences
Embrace a signature living experience that perfectly blends luxurious comfort with exquisite interior residential design. With 253 suites, you can choose from various 1-bedroom, 2-bedroom and 3-bedroom, fully furnished suite layouts to complement your desired lifestyle ranging from 600 sq. ft. to 6,000 sq. ft. Outside, you're surrounded by organic gardens with the option to add a private plunge pool.

All residences come fully furnished in pristine style with access to amenities and services including discounts on Hotel facilities and food services.
Inspired by a quality of life, amenities include three pools, boat access, gourmet restaurants, beachfront watersports, a world class thermal spa, 24-hour concierge, and many more.
~ Vie L'Ven
an earthly paradise
World class is a level of luxury synonymous with Vie L'Ven. Set on miles of pristine beach front, tucked into a conservation area - as the epitome of an oasis for pleasure, the resort experience indulges its guests in both ambiance and experiences.